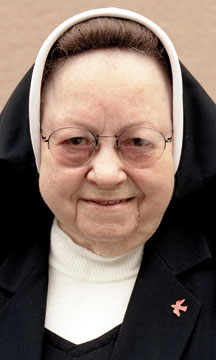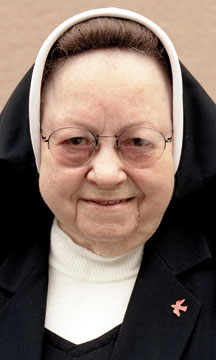 CHARLESTON—Sister Mary Helen Grobusky well remembers the advice she received during her discernment process when a priest mentor told her to stop playing around and get busy.
She laughs at the memory and concedes that she was indecisive about how strong a call she was receiving from God, and notes that most don't receive a loud and clear summons like St. Peter.
But, following her pastor's advice, she entered the convent of the Sisters of Charity of Our Lady of Mercy in 1936 and studied nursing. It turned out to be the right decision.
Sister Helen celebrated her 75th jubilee recently and said it has been a very nice life.
Born in Anderson and raised in Walhalla, she grew up in a family of strong Catholics. She and her twin brother were the oldest of eight children — five girls and three boys.
She recalls when their first sibling came along and, suffering pangs of jealousy, she and her twin put their toddler sister in a hole dug in their yard.
"It wasn't deep," she said, laughing. "She could have gotten out. But we went and got her eventually." 
Family was extremely important to Sister Helen and was one of the reasons she hesitated over joining a religious order.
"I didn't think I was good enough," she said. "I was too much of a tomboy and I knew I'd miss my brothers and sisters."
However, in joining the Sisters of Charity of Our Lady of Mercy, Sister Helen said she has been graced with an even bigger family.
Until she was in high school, Sister Helen had only limited contact with religious women. But in the 10th grade, she had the opportunity to attend St. Angela Academy in Aiken as a boarding student.
During her two years there, she developed a stronger admiration for the sisters and was drawn to their lifestyle.
"I thought they lived a very nice life and seemed to have a very balanced life with work and prayer, and enough recreation and enough vacation, and I thought it seemed good to me," she said.
Once she made the decision to enter the convent, everything fell smoothly into place, Sister Helen said.
She went to nursing school and in one of her first assignments was charged with caring for lepers. The sister also served on the psychiatric ward
of a hospital, in the operating room, in elderly care and in obstetrics. Some of her best memories are from her years in York, when she delivered several babies on her own.
Sister Helen didn't retire to Our Lady of Mercy Motherhouse until she was in her 90s, she said, and her memories run the gamut from mischievous to holy.
Laughing, she recalls the time she dressed in a very realistic red devil's costume on Halloween and scared her fellow sisters and nurses into screaming fits.
She's also been on pilgrimages to Rome and Fatima, and had the chance to meet Pope Paul VI and touch his shoulder at a midnight Mass in the Sistine Chapel.
"It was like a bolt of electricity went through me," she said, touching her hand in reverent memory. "He was a very holy man."
Life is quieter now, but Sister Helen said she is looking forward to a visit from her family. She tears up when she talks about her parents, and all her siblings and friends who have passed away, but said God has given her more than she ever hoped for. 
"A decision for the religious life is one of the biggest steps any man or woman, called by God, can take. It is costly but the rewards are great, now and eternally," she said.
Sister Marcella Zwingmann also celebrated 75 years with the Sisters of Charity of Our Lady of Mercy. Sister Marcella was unable to speak to The Miscellany because of her health.
According to information provided by the Our Lady of Mercy Motherhouse, Sister Marcella entered the congregation in 1936.
She was raised in Charleston and graduated from Notre Dame College in Baltimore, Md., with a degree in French. She also received a master's in French from The Catholic University of America and in guidance/counseling from Creighton University.
Sister Marcella began her teaching career with elementary education, and then taught at Bishop England High School for 21 years. She transferred to St. Angela Academy where she served as a teacher and principal.
The religious sister also directed the Our Lady of Mercy Associate Program for many years.
She has been a resident of May Forest since 2007 and is an active member of the congregation's prayer ministry.